Ayurvedic Practitioner Neha
Balanced Ayurveda was originally founded by Ayurvedic Practitioner Neha in 2011. She has completed her Ayurvedic Education from Punjab, INDIA and has over 10 Years of Experience in the field.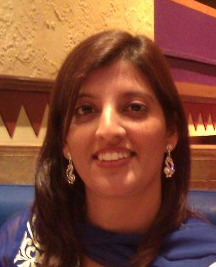 She received her Degree in Ayurvedic Medicine and Surgery (B.A.M.S.) with Honors. She has been an Ayurvedic Doctor in India and she has been continually recognized as a Professional Ayurvedic Practitioner (Vaidya) by the National Ayurvedic Medical Association (NAMA) in USA. Click here for NAMA Profile.
We at Balanced Ayurveda recognize a need for Ayurveda in today's busy lifestyle which can be full of stress and other imbalances. But she understands that not all day to day habits can be changed. That is why her focus is to help provide a more natural and balanced approach to the current lifestyle. Balanced Ayurveda offers a variety of Ayurvedic Services at our location.


Educational Profile & Qualifications
Bachelor of Ayurvedic Medicine & Surgery (B.A.M.S.)
Dayanand Ayurvedic College, Jalandhar, Punjab, India
Affiliated to Baba Farid University of Health Sciences, Punjab, India.
NAMA – National Ayurvedic Medical Association
Ayurvedic Practitioner Member A.D.

Professionally Trained in Ayurvedic Medicine subjects:
FIRST PROFESSIONAL
Basic Principle & History (Ayurved Itihaas) 60 Hours
Meta Physics (Padarth Vigyan) 200 Hours
Physiology (Kriya Sharir) 390 Hours
Sanskrit 200 Hours
Branches of Medical Science (Ashtang Sangrah) 100 Hours
Anatomy (Rachana Sharir) 660 Hours
SECOND PROFESSIONAL
Social & Preventative Medicine (Swasthvritta) 280 Hours
Materia Medica (Dravya Guna Vigyan) 360 Hours
Pharmacology (Ras Shastra & B.K.) 360 Hours
Jurisprudence & Toxicology (Agad Tantra Vyahar) 280 Hours
Pathology (Rog Avam Vikriti Vigyan) 360 Hours
Charak Samhita (Poorvardha) 180 Hours
FINAL PROFESSIONAL
Gynecology (Parsooti Tantra Avam Stri Rog) 310 Hours
Pedatrics (Kaumar Bhritya) 150 Hours
Medicine (Kaya Chikitsa) 960 Hours
Surgery (Shalya Tantra) 490 Hours
Opthalmology & E.N.T. (Shalakya Tantra) 410 Hours
Honors / Distinction Holder In:
Kriya Sharir (Physiology) 390 Hours
Charak Samhita 180 Hours
Professional Experience
Balanced Ayurveda, Chicago, Illinois, USA
Owner & Ayurvedic Practitioner
Chawla Clinic, Jagraon, Punjab, India Mar 2008 to Apr 2011
Asst. Doctor
Mehr Chand D.A.V. Hospital, Jalandhar, India. Feb 2007 to Mar 2008
Asst. Doctor
Personal Interests
• Applying Ayurveda in day to day life
• Yoga & Panchkarma
• Medical / Educational Research